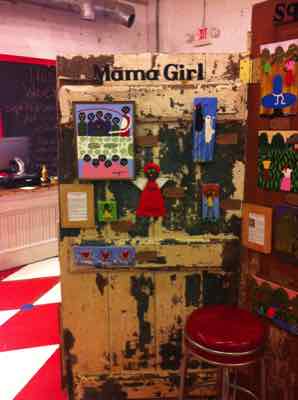 Mary "Mama-Girl" Onley
Painter, VA, Outsider Artist
1954-
Born and raised on the Eastern Shore of Virginia, Mama-Girl began life working in the fields near her home town of Painter, VA. Largely uneducated because of her commitment to keep her family fed, she didn't have time for many art or other pursuits.
That changed when severe allergies drove her from the fields. Taking time to express her creativity, she began making "happy art" – her description of the brightly painted pieces she creates. On the advice of a mentor, she trademarked her nickname – given to her by her grandmother.
Using strips of newspaper, Elmer's Glue and acrylic paint, she began expanding her simple happy art into other media, including boards.
She shows and teaches in different places, especially Cape Charles, VA. When she isn't showing, her family often is.
Mama-Girl's work is part of the permanent collection at the American Visionary Arts Museum in Baltimore, MD.