Purvis Young (1943-2010) was an American artist from the Overtown neighborhood of Miami, Fl. Young's work was often a blend of collage and painting that utilized objects he found and the experience of African Americans in the South.
A self-taught artist, Young gained recognition as a cult contemporary self-taught artist, with a collectors' following including celebrities Jane Fonda, Damon Wayans, Jim Belushi, and Dan Aykroyd. In 2006 a feature documentary entitled "Purvis of Overtown" depicted his life and work.
His work is found in the collections of the American Folk Art Museum, New York, The Art Museum of Western Virginia, Roanoke, VA, Bass Museum of Art, Miami Beach, The Corcoran Gallery of Art, Washington, Virginia Museum of Fine Arts, Richmond, VA, High Museum of Art, Atlanta, F.L. Hurn Museum of Contemporary Folk Art, Savannah, New Orleans Museum of Art, New Orleans, Ogden Museum of Southern Art, Philadelphia Museum of Art, Smithsonian American Art Museum, Washington, Studio Museum of Harlem, NY.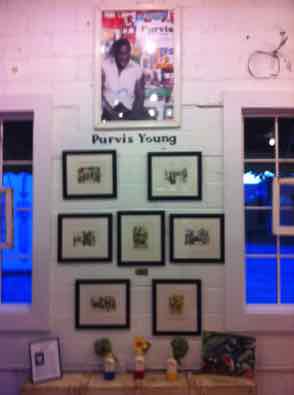 Copyright © Colonial Folk Art, Inc.

All Rights Reserved