Distinctfully regional Folk Art ...
The Florida Highwaymen (or just "Highwaymen"), were a group of 26 African American landscape artists in Florida who began painting in the 1950s and 1960s.
Together, the original group created and sold more than 200,000 individual pieces of art mostly in local towns and cities and along the roadsides of country roads in Florida. They packed their paintings into the trunks of their cars and sold them door-to-door throughout the eastern coast of Florida.
As self-taught and self-mentoring painters who were excluded from the traditional world of art shows and galleries, the Highwaymen largely
Who are the Florida Highwaymen?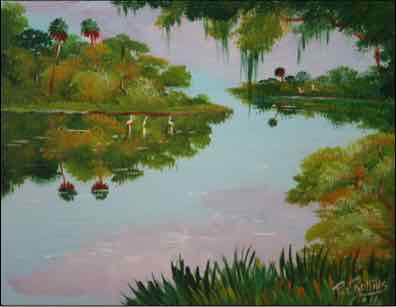 painted on Upson board or masonite and framed their paintings with "antiqued" crown molding. stic achievement.
Their style typically depicted waterscapes,
backcountry marshes, and inlets the way they were before tourism and develpments of the past 50 years changed the Florida rural scenes.
Typically, the Highwaymen used construction materials rather than traditional art supplies.
Although their artwork has been popular among some collectors, it has only been in more recent years that trey have been recognized for their artistic achievement.
The Highwaymen have been called "The Last Great American Art Movement of the 20th century." They are credited as being the founders of Florida's contemporary art tradition and the "Indian River School" art movement. 
In 2004, twenty-six individuhals were inducted into the Florida Artists Hall of Fame as "Florida Highwaymen."