Mayodan, NC, Outsider Artist
1943-2014
A big, burly man with a mischievous twinkle in his eye, Benny Carter was a folk art force to be reckoned.
Carter began painting in 1991 after he was laid off from a copper mill in Pine Hall, NC. He shopped flea markets and yardsales and put his findings to good use. Although he painted on more traditional material, like canvas, Carter rarely used it, and painted on most anything that was around.
Carter originally painted scenes of rural North Carolina in a primitive style.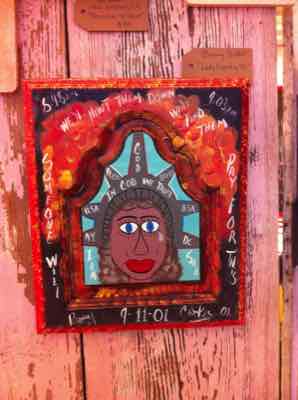 Over time his work become very detailed and precise. He painted in extraordinary detail and creates colorful, satirical sculptures, massive birdhouses and clocks.
His work includes miniature paintings, some no larger than 1" by 1". His most collected works have been his renderings of New York City, including several capturing the destruction of September 11, 2001, and the memorials that grew from it.


Copyright © Colonial Folk Art, Inc.

All Rights Reserved