The Rev. R.A. Miller (1912-2006) lived his entire life on the same land where he was born in 1912. He spent decades working as a farmer and cotton mill worker, and is an ordained minister in the Free Will Baptist Church.
After being stricken by glaucoma in his early sixties, he retired and began to create artwork to spread his spiritual message. He used paint and magic marker on tin to create pictures of bizarre and ancient animals, dinosaurs, flags, self-portraits, angels, and devils. His whimsical and colorful tin cutouts are enormously popular and have been widely exhibited.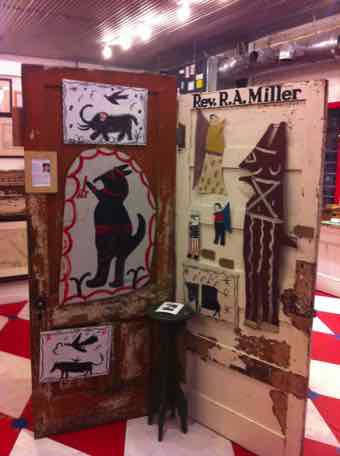 In 1984 R.E.M. spliced images of Miller's whirligigs into their video for "Pretty Persuasion." In 2006, Actor/director Tim Robbins was pictured in the New York Times with "Blow Oskar," Miller's whimsical tribute to his horn-honking cousin.